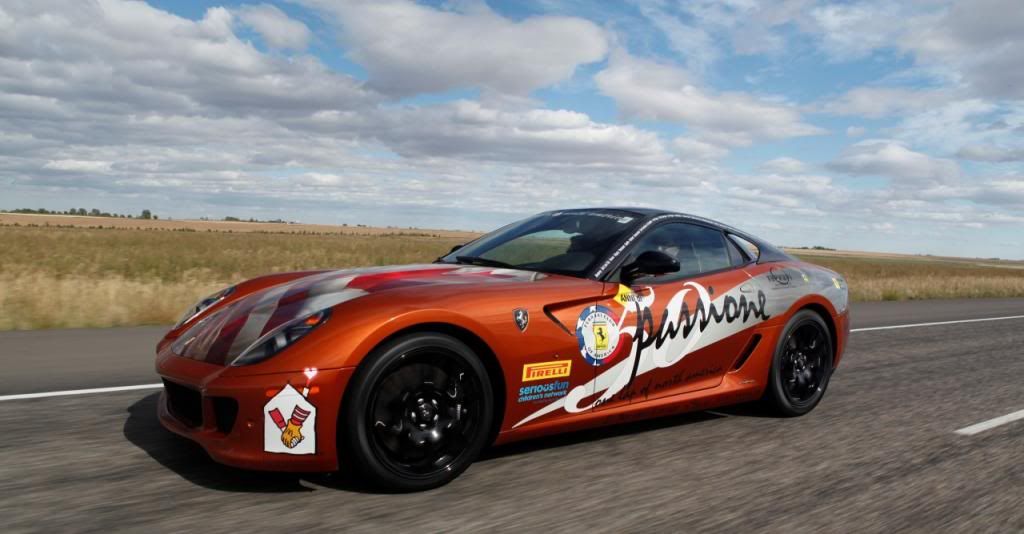 In commemoration of its 50th Anniversary, the Ferrari Club of America (FCA) is underway with a 20,000 mile cross-country relay visiting 62+ cities spread across North America. One Lap of North America Relay, subtitled "50 Anni di Passione" tour (50 years of Passion), started on August 17, 2012, at Concorso Italiano in Monterey, California and will finish at the 2013 Ferrari Club of America International Meet being held in Elkhart Lake, Wisconsin and the legendary Road America race track from July 31 to August 4, 2013. Along the way, the relay will visit every FCA Region and Chapter, every authorized Ferrari dealer, and many major automotive events of special interest to the Ferrari community.
The relay is led by a special, one-off Ferrari 599GTB-HGTE built specially for Passione. This unique Ferrari, the very last North America specification 599 produced, has been made possible by Jim Taylor, FCA member and Patrono Principale of the FCA's 50th Anniversary. The 599 has a unique paint scheme and interior design, as well as custom graphics representing the 50-year history of the FCA.
The car will be handed off to Cauley Ferrari on Saturday, July 6th, 2013 during an event in Battle Creek, Michigan at the W.K. Kellogg Airport called the Michigan Mile, an event in which cars compete individually to achieve the fastest speed possible in the distance of one mile from a standing start. The 599 will then return to Cauley Ferrari in West Bloomfield, where it will reside on display alongside their first delivery of an F12berlinetta until Wednesday, July 10th. It will then be driven across the Canadian border and handed off in Windsor for its next leg of the relay.
If you'd like to see this beautiful piece of Ferrari history, stop by Cauley Ferrari on Monday, July 8th or Tuesday, July 9th.