In 2002, Puma teamed up with our company Teckademics and released a limited run "Teckademics Speed Cat" casual shoe for motorsport enthusiasts.  They retailed about $90 and became one of Puma's rarest shoes.  I asked Sean Murphy, the creator of Teckademics, if he could tell us about the shoe deal.  Believe it or not I really didn't know the story behind them.  Sadly this was one of the last emails that I received from Sean before his death last year.  I just recently found his old email.  Sean had a unique way of explaining things so I didn't edit his response:
"OK< This is what happened. Puma sponsored my Audi A4 that made the cover of Max Power. I got the sponsor through a Pro Skater bud and Puma provided us free kicks.

Then Teckademics "Mischief" took off and Puma sponsored Teck.  After the success of "Mischief 3000", they offered us our shoe deal. At the time, "M3K" was one of the 10 top selling motorsports DVDs in the world. Puma had a Sparco Speed Cat and they dropped Sparco for us, fancy that right? After our line they did Ferrari.  To this day they do different runs but Teck was in good company.

They did 3 different color ways approved by Teck. Of course we did the yellow to mock Dustin's "Bumble Bee".  They did 600 pairs of each shoe (1,800 pairs total). They gave us a very fair royalty and we were sold exclusively online and in the flagship Puma Stores.

We sold out flat. The store displays had a video player running a "Mischief" loop and all the Teck Cats stacked on top of each other.

At the end of the day it was a fantastic run and Puma kept us in the flow."
First Prototype
A pair found on eBay a while ago
Shoe and DVD rack design set up at flagship Puma stores which included a real car fender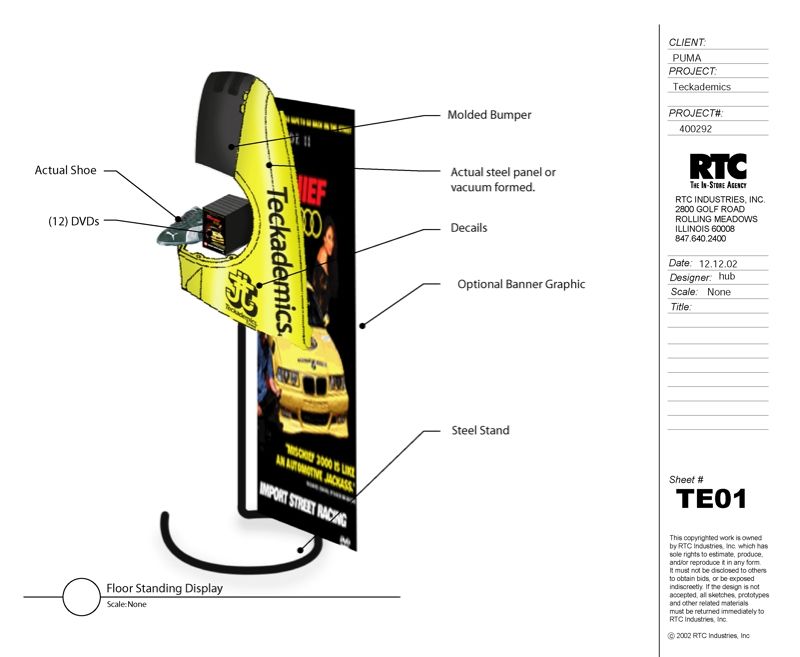 Dustin receiving his free pair of Teck Speed Cats at a Puma store in NYC
Speed Cat Commercial (minus the Teck intro and outro)